KOMBIO®
Regular price
Sale price
$24.99 USD
Unit price
per
Sale
Sold out
FREE SHIPPING TO UNITED STATES, UK AND AUSTRALIA BUY MORE THAN ONE, GET 10% OFF
View full details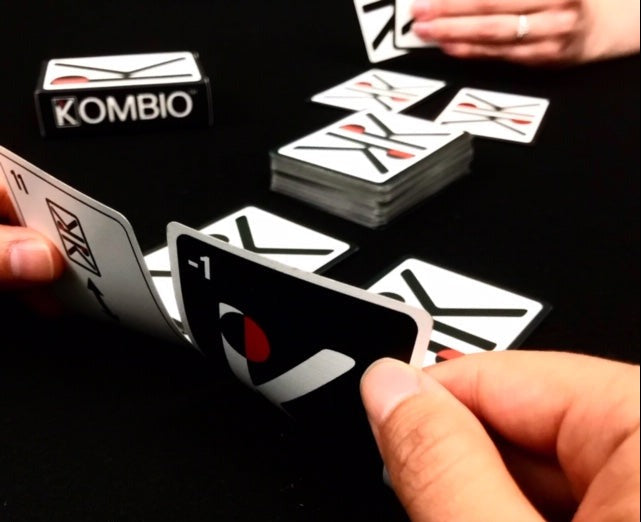 Deal Me In
2-6+ players | 15-45 mins | ages 8+
The mission behind KOMBIO® is to foster connection with friends, old and new, through shared experience, focus and competitive fun. Players will be challenged to use speed, memory and deception to get the lowest score all while adapting to an ever changing table of opportunity and misfortune.
Quick to learn and difficult to master - KOMBIO® will deliver countless hours of entertainment, laughter and memories.
T-Shirts Available Now!
Hand designed for the ever growing family of KOMBIO enthusiasts! Be it lounging about or out exploring - this shirt spices things up with an abstract style.
Free Shipping!
Community
In today's digital age, where much of our social interaction occurs through screens, card games offer a refreshing opportunity for face-to-face interaction. Sitting around a table, players have the chance to engage in lively conversations, observe each other's reactions, and develop personal connections.
2-6+ People: Play 1v1 or with a Group
Finding a game that is compact, easy to teach and that can be played 1v1 or with a group are few and far between. From challenging a friend to playing at game night, rest assured, everyone can join in on the fun KOMBIO® brings!
Packable
KOMBIO® is pocket sized for a reason. It's a game you don't have to think twice, pack it for..
◑ game night
◑ camping
◑ weekend adventures
◑ traveling
...really, anywhere!
To further lighten the pack, there is a free KOMBIO® Scorekeeping App available on iOS and Android
Join Us!
With KOMBIO® licensed in Germany 🇩🇪, Switzerland🇨🇭, Austria 🇦🇹, France 🇫🇷 and Italy 🇮🇹 and more are on the way - we are just getting started. Buy a deck and join the KOMBIO Community!